Deep Vein Thrombosis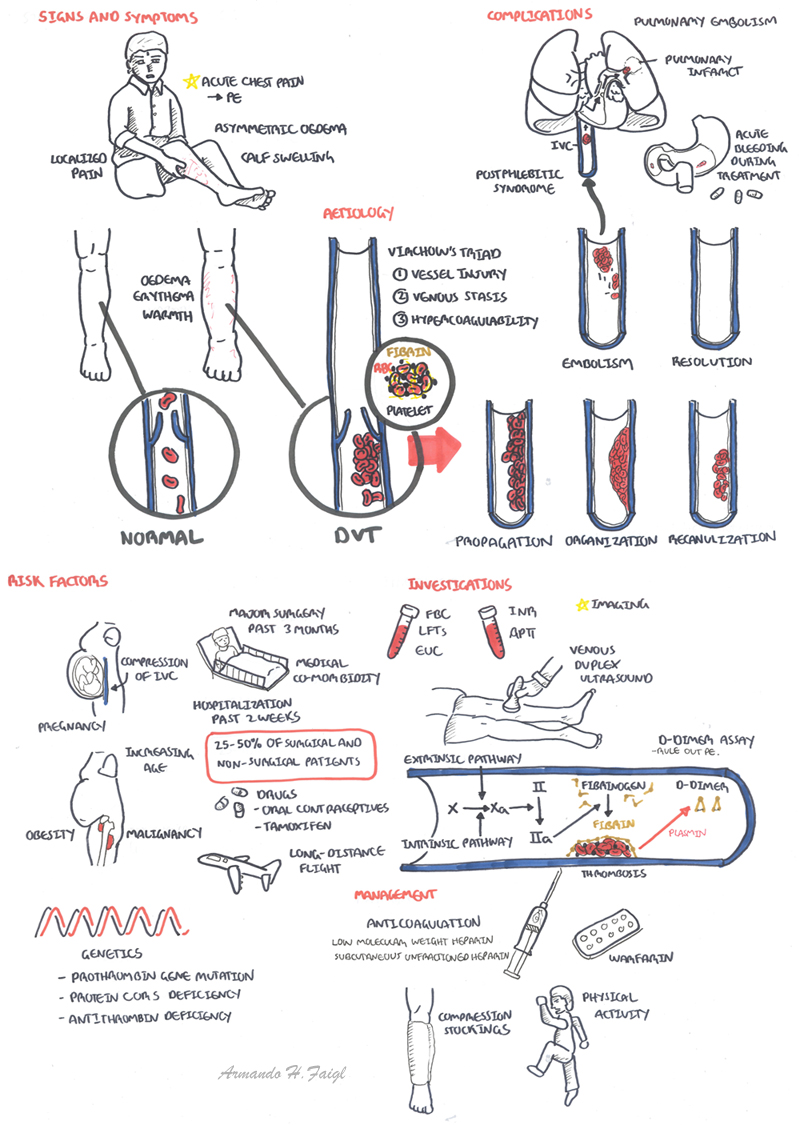 Overview
Overview Deep vein thrombosis (DVT) is the formation of a blood clot in a vein deep under the skin 25-50% of surgical patients and many non-surgical patients. 65% of DVT are below the knee are symptomatic and rarely embolism to the lung. There are many causes of DVT.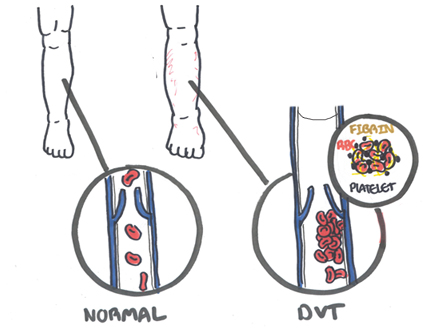 Definition


Thrombus: blood clot 
Thrombosis: blood clot that forms in a vessel and remains there
Deep Vein Thrombosis (DVT): Formation of a blood clot in one of the deep veins of the body, usually in the leg
Pulmonary Embolism (PE): occurs most often from a disloged thrombus from teh lower limb (DVT). The embolyus travels towards the lung and becomes lodged in the pulmonary artery resulting in infarction of the lung tissue.
Venous Thromboembolism (VTE): Formation, development, or existence of a blood clot or thrombus within the venous system that has/potential to embolize.
Signs and Symptoms
Clinical Presention DVT usually affects the veins in the legs, notably the calf.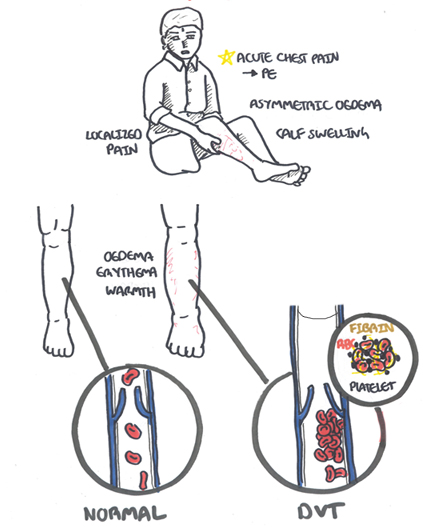 Asymmetrical pain and/or tenderness
Asymmetrical warmth/ erythema
Asymmetrical swelling
Signs of Pulmonary embolism (complication of DVT)
Breathlessness
Chest pain
Coughing
Tachycardia
Haemoptysis
Wells Criteria
| | |
| --- | --- |
| MODIFIED WELL CRITERIA | |
| Clinical features | Score |
| Active cancer   | 1 |
| Paralysis, paresis, or recent cast immobilization of the lower extremities | 1 |
| Recently bedridden for ≥ 3 days, or major surgery within the previous 12 weeks requiring general or regional anesthesia | 1 |
| Localized tenderness along the distribution of the deep venous system | 1 |
| Entire leg swelling | 1 |
| Calf swelling at least 3 cm larger than that on the asymptomatic side | 1 |
| Pitting edema confined to the symptomatic leg | 1 |
| Collateral superficial veins (non-varicose) | 1 |
| Previously documented deep vein thrombosis | 1 |
| Alternative diagnosis at least as likely as deep vein thrombosis | 2 |
Wells Scoring System – help tailor investigations
Low probability: 0
Moderate probability: 1-2
High probability: 3-8
Differential Diagnosis
Cellulitis
Thrombophlebitis
Arthritis
Asymmetric peripheral oedema secondary to heart failure, renal disease or liver disease
Haematoma
Lymphoedema
Ruptured backers cyst
Varicose veins
Investigation and Diagnosis
Think D-dimer assay is only useful if it is negative; it helps in ruling out DVT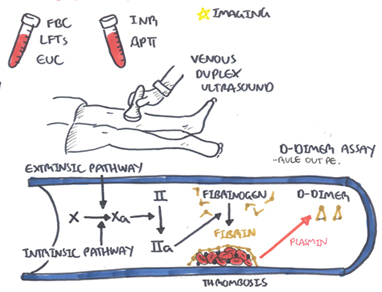 ---
Diagnosis
Duplex ultrasound
Venography (phlebography) – Gold standard
Pathophysiology
All comes down to Virchow's Triad. Any change to Virchows triad increases the risk of VTE.
Virchows Triad: Hypercoagulability, Vessel wall injury, Stasis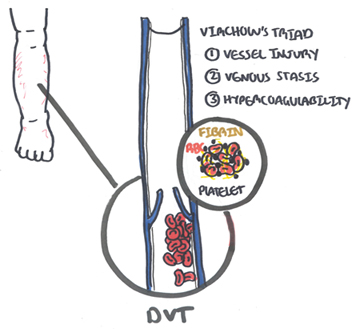 Hypercoagulability
Malignancy
Surgery
Trauma
Oral contraceptive pill
Genetic
Antiphosphlipid syndrome
Hyper homocysteine level
Inherited Thombophilias
Factor 5 leiden mutation
Pro-thrombin gene mutation
Protein S deficiency
Protein C deficiency
Stasis
Immobility, e.g. after surgery
Pregnancy
Obesity
Heart failure
Cast on the leg
Extended travel in plane/vehicle
Endothelial injury
Inflammation
Previous thrombosis
Atherosclerosis
Fracture
Management
The aim of treatment is to prevent PE, reduce morbidity and prevent or minimise the risk of developing the postphlebitic syndrome
Pain management – analgesia +/- opioids
Anticoagulation

Low risk bleeding – Low molecular weight heparin (enoxaparin 1.5mg/kg SC daily)
Average risk bleeding – Unfractionated heparin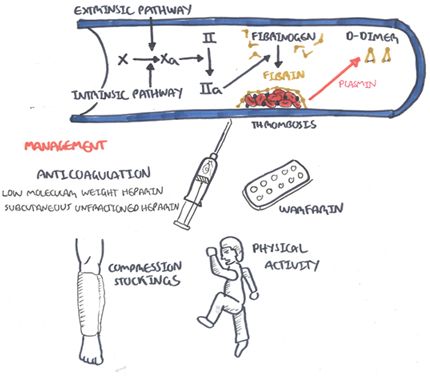 MANAGEMENT DURATION
Clinical situation
Duration
VTE provoked by transient major risk factor
3 months
Distal unprovoked DVT or PE
3 months
First unprovoked proximal DVT or PE
6 months
First unprovoked VTE plus

Active malignancy
Multiple thrombophilias
Antiphospholipid syndrome

Indefinite
Recurrent unprovoked VTE
Indefinite
Complications and Prognosis
Complications
Acute

Phlegmasia cerulea dolens (acute limb gangrene)

Chronic

Post thrombotic syndrome
Chronic venous insufficiency
Prognosis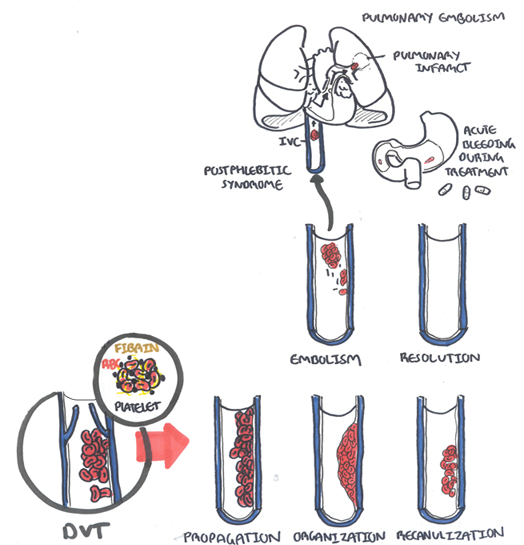 Prevention
Identify patient at risk
Prevent Dehydration
Mechanical prophylaxis

Intermittent Pneumotic Compression
Calf compression stockings

Encourage movement
Exercise
Quit smoking
Medication – Warfarin to therapeutic dose INR 2-3 OR NOAC of choice
IVC filter
Prevention in surgery
High Risk – LMWH (40mg daily) + mechanical prophylaxis

Orthopaedic Surgery
Major trauma
Fracture
Major surgery >40yo

Medium Risk – LMWH (20mg daily) + mechanical prophylaxis
Low Risk – Consider LMWH + mechanical prophylaxis
Remember Make sure there are no contraindications for LMWH and Mechanical prophylaxis