Pancreatic anatomy Pancreas extends retroperitoneally across posterior abdominal wall. It means "All (pan) Flesh (Kreas)". The pancreas consists of the following parts:
The head is encircled by duodenum and tail in contact with spleen. Pancreas has a poorly developed capsule & therefore adjacent structures (common bile duct, duodenum, splenic vein, transverse colon) are commonly involved in inflammatory process.
Blood Supply
Pancreatic branches of the splenic artery
Superior pancreaticoduodenal artery
Inferior pancreaticoduodenal artery
Venous drainage
Drains with the splenic vein → Superior Mesenteric → Portal vein
Nerve invervation
Parasympathetic → Vagus nerve → Stimulates pancreatic juice secretion
Sympathetic
Lymphatic drainage
Head and Neck → Pancreticoduodenal nodes →
Body and Tail → Pancreaticosplenic nodes →
Embryology
Fusion of the ventral and doral outpounchings of forgut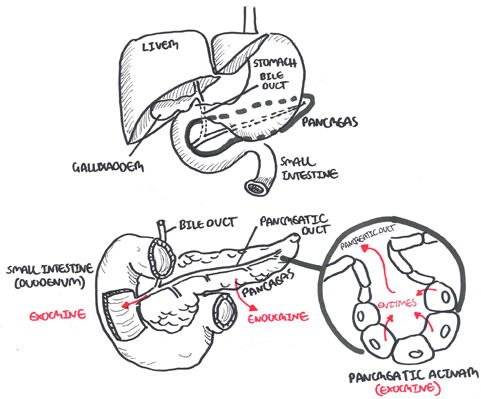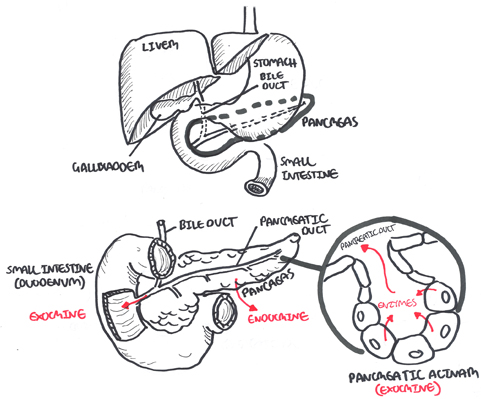 Pancreatic physiology exocrine (98%) & endocrine (2%) functions
Exocrine: Pancreatic acinar cells produce digestive enzymes, which are stored in secretory granules. The Pancreatic exocrine secretion is regulated by cephalic, gastric & intestinal stimuli. Acinar cells secrete pancreatic juice made up the enzymes:
Amylase → Carbohydrate digestion
Lipase → Lipid digestion after bile has emulsified the fat
Proteases (MANY!) → Protein digestion
Exocrine section is stimulated by:
Vagus nerve
Secretin (hormone)
Cholecystokinin
Endocrine: Islets of Langerhans – clusters of hormone-producing cells secreted directly into circulation. Endocrine cells of the pancreas:
Beta cells → Insulin
Alpha cells → Glucagon
D cells → Somatostatin.
Cells of the Pancreas
Secretion
Function
Acinar cells secrete enzymes
into the duodenum
Nucleases
Breaksdown nucleotides
Proteases
Digests Proteins
Lipases
Digests lipids
B-amylase
Digests carbohydrates
Islets of Lagerhan secrete hormones
into the bloodstream
Glucagon
Stimulates glucose release into the bloodstream from glucose stores
Insulin
Increases cell uptake and storage of glucose