Overview Alcohol dependence is the clinical term used to describe a person who has become addicted to alcohol. Dependent drinkers have typically lost control of their drinking, may experience withdrawal symptoms on cessation of intake. Ethanol is the most widely used CNS depressant. It is rapidly absorbed from the stomach and small intestine and distributed in total body water
Alcohol Intoxication sign and symptoms becomes more dangerous as blood alcohol increases
Euphoria, disinhibition, grandulouness, impaired attention, impaired judgement
Increase risk or accidents, injuries, violence
Dysarthria, ataxia, confusion. disorientation, increase risk of falls, fractures
Inhalation of vomitus, asphixiation, coma, death
Complications of alcohol use
Acute complication of alcohol use

Coma and respiratory disease
Alcohol overdose
Other drug overdose
Aspiration pneumonia
Burns
Drowning
Sexual risk-taking
Acute pancreatitis
Arrhythmia (atrial fibrillation - holiday heart)

Chronic complication of alcohol use

Liver Disease (Cirrhosis or alcoholic fatty liver disease)
Gastro-oesophageal relux, gastritis
Oesophageal varices
Acute pancreatitis
Chronic pancreatitis
Hypertension
Anaemia
Macrocytosis (50%)
Myopathy
Pulmonary infections
Thrombocytopaenia
Wernikes's Encephalopathy (Vitamin B1 deficiency)
Korsakoff's Syndrome (Complication of Wernike's)
Wernicke's Triad: Confusion, Cerebellar ataxia, abnormal eye movements with opthalmoplegia.
Korsakoff's Syndrome is characterised by anterograde and retrograde amnesia
Psychiatric complication/comorbidites
Social Complication

Financial
Occupation
Family
Relationship
Legal
Stages Of Change
Pre-contemplation
Contemplation
Preparation
Action
Maintenance
Relapse
Management of alcohol dependence
Education and information
Management of withdrawal

Oral vitamins (especially thiamine)
Benzodiapine

Pharmacological treatment of dependence

Disulfiram
Naltrexone
Acamprosate

Non-pharmacological treatment of depence

Cognitive behavioural therapy
12-step programs

Support from family/friends
Support groups - alcoholics anonymous, 12-step programs
Follow-up
Personal, life-style and environmental change
Side note Without pharmacotherapy, the majority (75%) will relapse within the first year.
Pharmacology Naltrexone inhibitis effects of endogenous opioids at mu receptor sites (anti-craving agent). Side effects: nausea, diarrhoea, fatigue, headache, hepatotoxicity. Contraindications: pregnancy, liver disease, advanced renal disease, chronic pain*
Pharmacology Acamprosate inhibits excitatory glutamates at NMDA receptor (anti-craving agent). Side effects: Diarrhoea, skin eruptions, mild sedation is occasionally reported. Contraindicated: pregnancy
Pharmacology Disulfiram inhibits aldehyde dehydrogenase at the liver. This causes the hangover feeling due to accumulation of aldehyde. Side effects: Drowziness, pschotic reactions, peripheral neuropathy, optic neuritis, hepatitis, impotence, dermatitis, cardiovascular events. Contraindications: advanced renal and liver disease, pregnancy, drinking in the last 24hrs.
---
Alcohol Overdose can be life-threatening and is a differential diagnosis with someone presenting with abnormal mental states, confusion and ataxia/coma. The person may also present with an underlying medical or surgical condition which is missed.
Management
DRSABCD (if necessary)
Vitals
Glasgow coma scale
Breath or blood alcohol levels
Urine or plasma drug screen
Blood sugar levels
IV fluids
Correct electrolytes
+/- Thiamine
Follow up with alcohol withdrawal management +/- alcohol dependence assessment
---
Alcohol Withdrawal can occur within hours to days after heavy use and can include elevated vital signs, tremor, transient hallucinations, anxiety, and seizures. The criteria (and symptoms) of alcohol withdrawal are identical to those for sedative-hypnotic withdrawal.
The treatment of choice for alcohol withdrawal is benzodiazepines. Anticonvulsants can also be used. Should not use antipsychotics. Benzodiazepines not dependent on liver function, such as lorazepam, are often preferred in the treatment of alcohol withdrawal.
Delirium Tremens (severe alcohol withdrawal): a syndrome associated with the abrupt discontinuation of alcohol in a chronic abuser, carries a high mortality rate if not promptly identified and treated.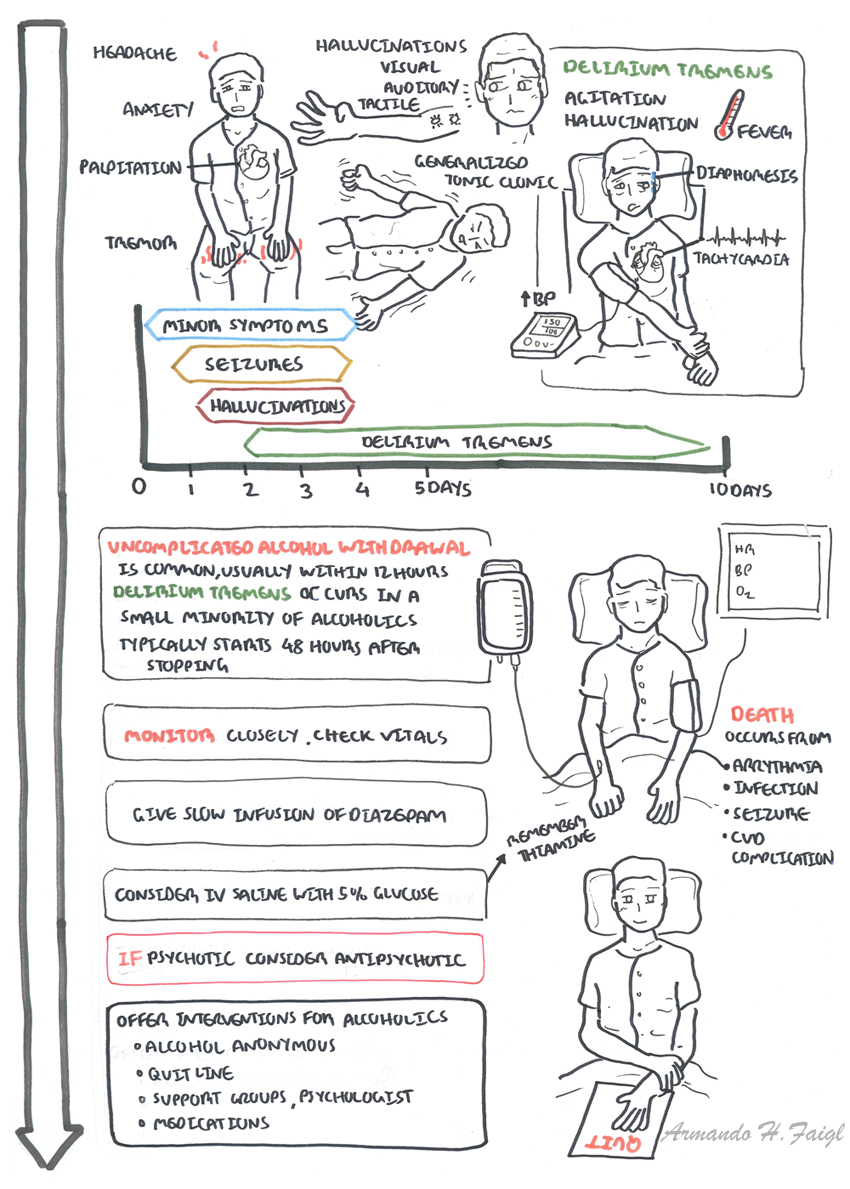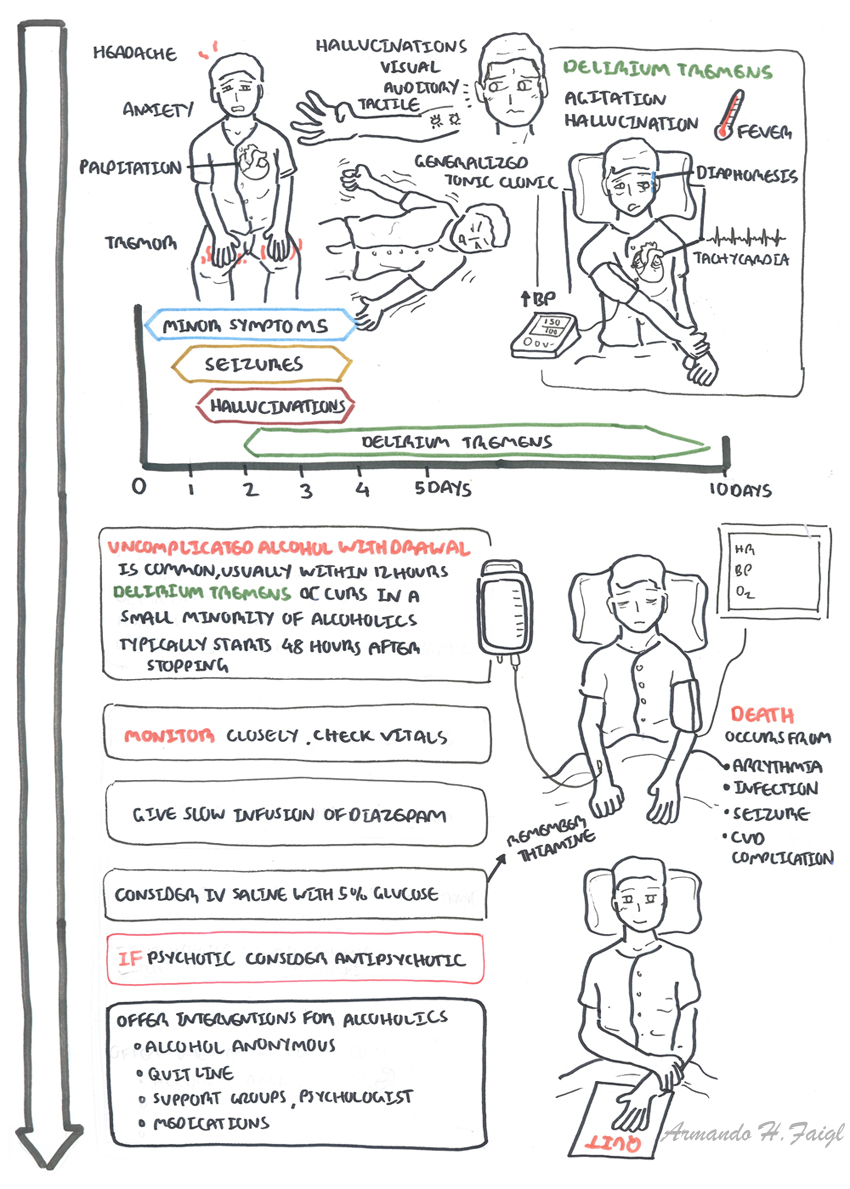 Watch Alcohol Withdrawal (Delirium Tremens)