Overview Potassium (K+) is an important ion in the body. K+ is found mainly intracellularly (inside the cells) whereas sodium (Na+) is found extracellularly (outside the cells).
Serum Potassium: 3.5mmol/L - 5.0mmol/L
Serum Sodium:
Therefore:
Hyperkalaemia: >5mmol/L
Hypokalaemia: <3.5mmol/L
As the pH rises , K+ is shifted intracellularly and the serum levels falls; conversely when serum pH decreases, intracellular K+ shits extracellularly into the vascular space and so the serum level increases. This is because H+ and K+ are both positive and it is important to have normal +ions levels in the serum to maintain a gradient across the cell membrane to maintain the excitability of nerve and muscle cells, including the myocardium.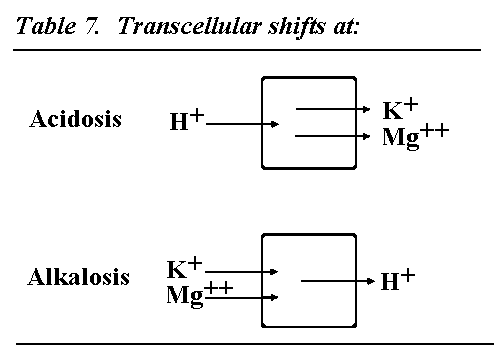 Causes of Hyperkalaemia
Excessive intake
Increased production

Haemolysis
Rhabdomyolysis
Intense physical activity
Burns
Tumour lysis syndrome

Shift from intracellular to extracellular fluid

Acidosis
Insulin deficiency/resistance
Medications

β-blocker
Suxamethonium
Digoxin
Spironolactone

Hyperkalaemic periodic paralysis

Decreased excretion

Renal failure
Medications

Potassium sparing diuretics
ACE inhibitors
NSAIDs
Trimethoprim, cyclosporin, tacrolimus
Signs and symptoms
Non-specific
Generalised muscle weakness
Respiratory depression
Ascending paralysis
Palpitations, Arrhythmia, Cardiac arrest
Management - nonpharmacological
ECG
ABCD
Check serum potassium
Management - pharmacological
IV Frusemide (provided patient normal urine output)
IV Calcium chloride or Calcium gluconate
Drive K+ into the cell

Insulin + Glucose
Salbutamol
Sodium bicarbonate - if acidotic

Monitor serum K+ every hour
Eliminate K+ from the body

Calcium Resonium (this is slow)
Dialysis (last line)
Pharmacology Calcium Gluconate is a myocardium stabiliser and is cardioprotective.  Side effects: Bradycardia, hypotension and peripheral vasodilation.
Pharmacology Calcium Resonium is a large insoluble molecule that binds to K+ in the large intestine, where it is excreted in faeces. Side effects:
MANAGEMENT OF HYPERKALAEMIA DEPENDING ON SEVERITY
Mild
Moderate 
Severe

Calcium Resonium

IV Frusemide
IV Frusemide

Calcium Resonium

Calcium gluconate/Calcium chloride
Insulin + Dextrose/N.Saline
Insulin + Dextrose/N.Saline
Salbutamol
Salbutamol
Complications of Hyperkalaemia
Cardiac arrest
Weakness
Paraesthesiae
Decreased reflexes
Ascending paralysis
---
Hypokalaemia
Defined as potassium <3.5mmol'L
Signs and symptoms
Generalised muscle weakness
Respiratory depression
Ascending paralysis
Ileus, constipation
Palpitations, Arrhythmia, Cardiac arrest
Nephrogenic diabetes insipidus (characterised by polyuria and polydipsia)
Management - nonpharmacological
ECG
ABCD
Check serum potassium
Management - pharmacological
Chlorvescent - Given STAT
Slow K
Potassium Chloride (KCl) IV given in 10mmol in 100ml of normal saline
Check serum potassium
ECG findings
Peaked P waves
T wave flattening and inversion
U waves