Gastroenteritis (Infectious Diarrhoea)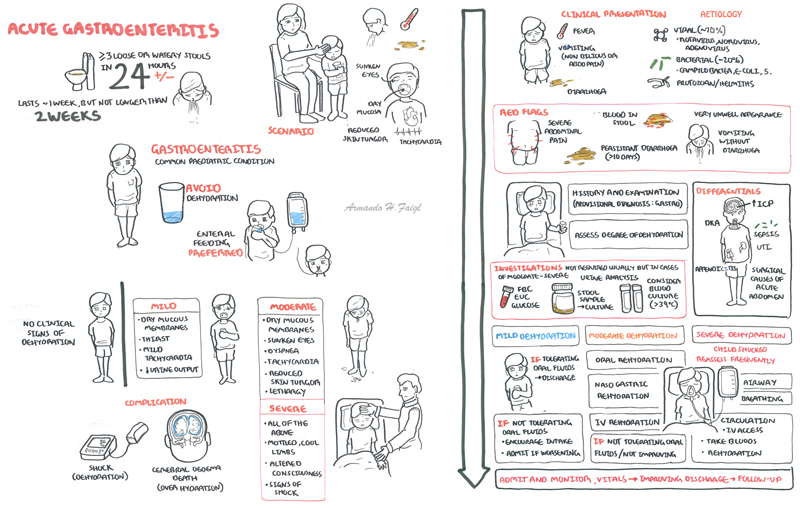 Overview
Overview Gastroenteritis continues to cause significant morbidity in developed and developing countries. The most common cause are viral and bacterial including:
Norovirus
Enteric adenoviruses
E-coli
Salmonella spp. and Shigella spp.
Campylobater jejuni

Definition
Diarrhoea: Loose, water like stools that occur with increased frequency and an increased volume of >200g per day
Gastroenteritis: >3 or more loose stools per day for <14 days
Chronic Diarrhoea: Diarrhoea that continue for more than 2 weeks
Malabsorption: Defined as the failure to absorb nutrients
Toddlers Diarrhoea: Clinical syndrome characterised by chronic diarrhoea often with undigested food in the stools of a child who is otherwise well, gaining weight and growing satisfactorily.
Gastroenteritis is usually self-resolving. Parasitic infection are uncommon but can be dangerous.
Signs and Symptoms
Clinical Triad of Gastroenteritis: fever, vomiting, diarrhoea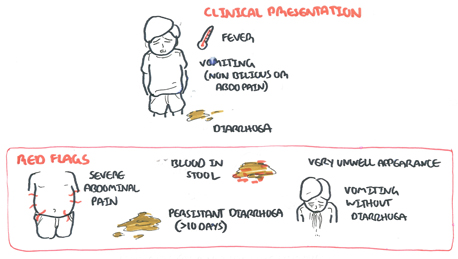 It is important to assess state of dehydration because this will tailor treatment. Dehydration can be either mild, moderate or severe.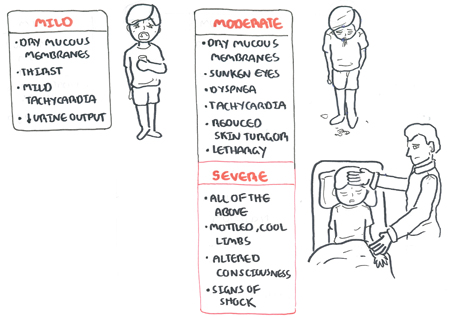 Differential Diagnosis
Viral Gastroenteritis
Rotavirus (most common)
Noravirus
Adenovirus
Hepatitis A, B, C, E
Bacterial Gastroenteritis
E-coli
Clostridium difficile
Salmonella
Shigella
Campylobacter jejuni
Side note Most bacterial causes of diarrhoea are self-limiting and do not usually require antibiotic therapy.
Parasitic Gastroenteritis
Giardia Lamblia
E. vermicularis
Watch Video
Pin Worms – Enterobius Vermicularis
Investigations
Full Blood Count
EUC
LFT
CRP
Enzyme immunoassay
PCR
Stool culture
Blood culture
---
Diagnosis
Viral causes – Enzyme immunoassay and latex agglutination
Bacterial causes – Stool and Blood culture +/- polymerase chain reaction (PCR)
Parasitic causes – Microscopy of stool +/- PCR
Management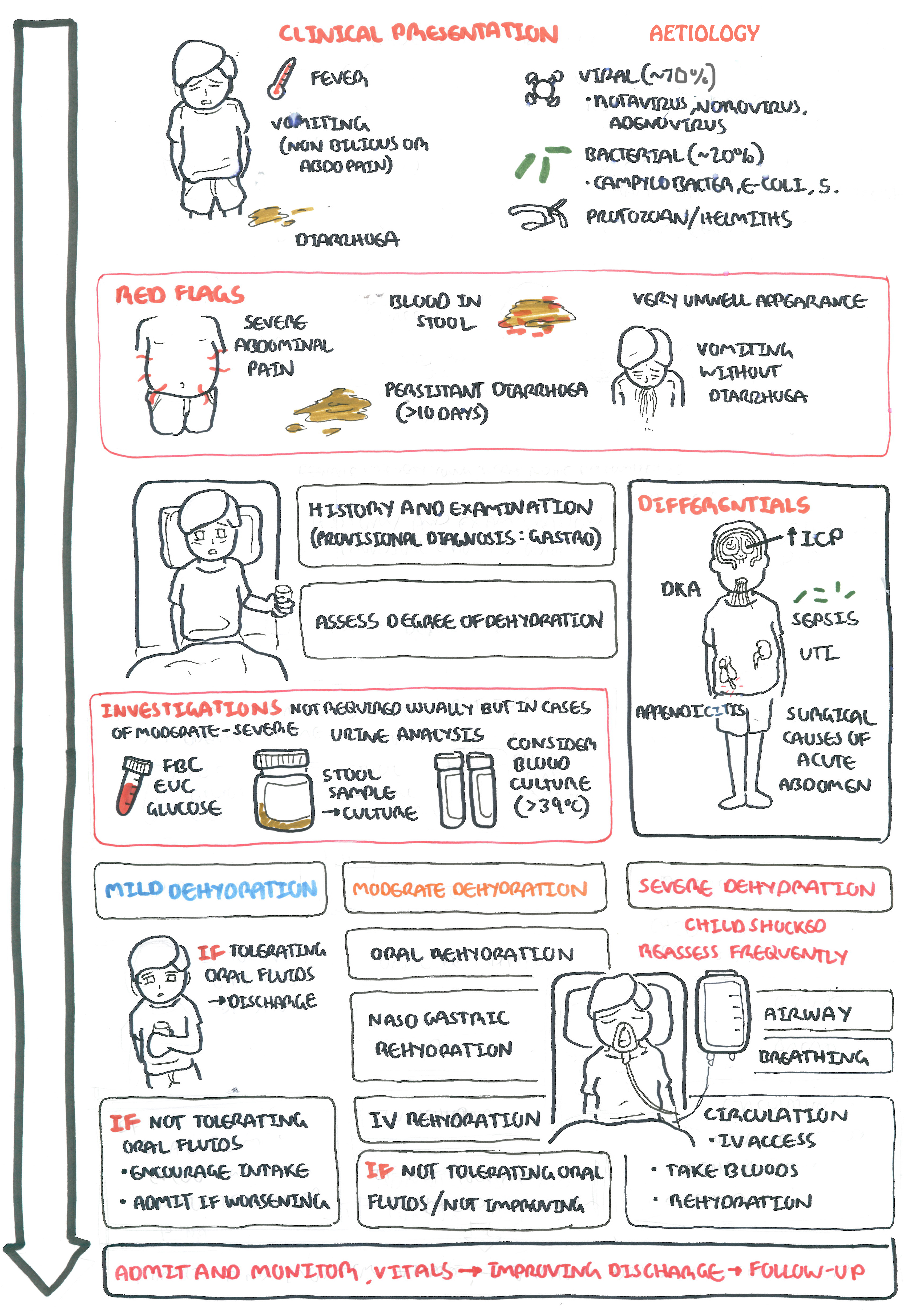 Complications
Complication
Dehydration
Electrolyte imbalance
Acidosis
Septicaemia
Meningitis
References
Royal Children Hospital Melbourne