Management of chronic hypertension
Education
Sodium reduction
Diet – high fruit and veg, whole grains, low sodium, low fat proteins
Waist circumference reduction
Increase physical activity – 30 min a day
Limit alcohol consumption
Smoking cessation
Management of sleep apnoea
Monitoring
Antihypertensive medication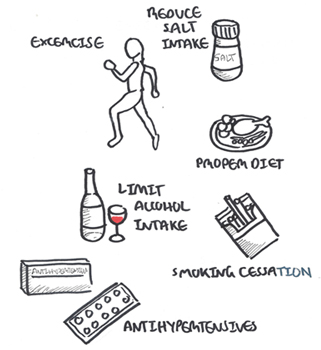 Corner stone of managing primary hypertension is modifying poor life-style choices (ie. diet, smoking cessation). Antihypertensive medication are recommended for patient at high risk of cardiovascular disease and who have moderate-severe hypertension. Secondary causes of hypertension may require surgery and additional medications.
Management for end organ damage not discussed here
Follow up in 3 months then every 6 months there after
Antihypertensives first line Patients commonly require two or more drugs in combination to reach BP targets.
Ace inhibitors/ARBs
Calcium Channel Blockers
Beta blockers are added as secondary
Thiazide (typically for coexisting Congestive Heart Failure)
Initiate hypertensives immediately if hypertension grade III
Remember The combination of an ACEI or ARB, a diuretic and a nonsteroidal anti-inflammatory drug – the triple whammy – can cause acute kidney failure
Pharmacology Ace inhibitors work by inhibiting the membrane bound enzyme ACE which usually converts Angiotensin I to Angiotensin II. Angiotensin II is a very strong sympathetomemetic increasing heart rate and contracitliy as well as being potent vasocontrictor. Side effect of ACE include dry cough, hyperkalaemia, angioedema and rash (+/- nausea, diarrhea, etc). Contraindications include chronic cough, allergy, pregnancy and renal failure. Alternative drug for ACE is ARBs which work just as effectively.
Remember Common side effect of Beta blocker and Calcium channel blockers is orthostatic hypotension which is defined as a decrease in systolic blood pressure of 20 mm Hg or a decrease in diastolic blood pressure of 10 mm Hg within three minutes of standing when compared with blood pressure from the sitting or supine position