Pulmonary Embolism
Overview
Overview Pulmonary embolism occurs most often from a dislodged thrombus from the lower limb (DVT). The embolus travels towards the lung and becomes lodged in the pulmonary artery resulting in infarction of the lung tissue.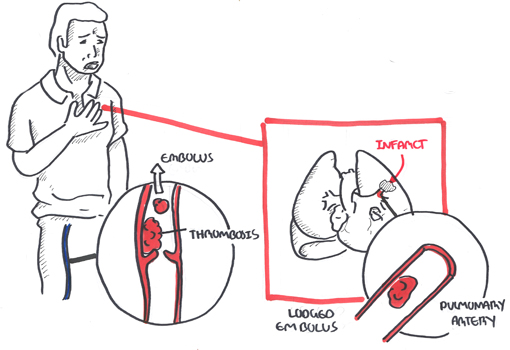 Definition
Pulmonary Embolism:
Deep Vein Thrombosis (DVT): Blood clot in the deep venous system that usually affects the lower extremities or pelvic veins.
Risk Factors
Pulmonary Embolism usually arise from Deep Vein Thrombosis (DVT). DVT is the most common in patient over 40 years of age who undergo major surgery.
Remember Genetic predisposition to hypercoagulability accounts for approximately 20% of PEs. The most common inherited conditions are the factor V Leiden mutation and the prothrombin gene mutations
Signs and Symptoms
Clinical Presentation Most patients with PE experience dyspnea commonly without other symptoms. Syncope, cyanosis, angina are signs of massive PE. Unilateral pleuritic chest pain is experiences in minority of patients +/- haemoptysis. Signs and risk factors for DVT is extremely important during history and examination.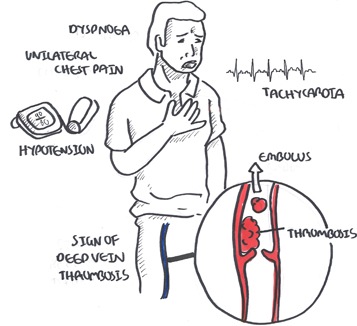 Remember Always suspect pulmonary embolism (PE) in sudden collapse 1-2weeks after surgery
---
Examination
Hypotension, ↑JVP indicates massive PE with pulmonary hypertension
Tachycardia
Dyspnea (breathlessness)
Pyrexia following lung infarction is common
Signs of DVT – pain, swelling, and erythema to the lower extremity, particularly the back of the leg below the knee
Differential Diagnosis
Pneumothorax
Cardiac tamponade
Investigations
CT Pulmonary Angiogram (Gold Standard)
V/Q Perfusion Scanning
D-Dimer Assay – Helps ruling out PE
Chest X-ray – May look normal
ECG
---
Diagnosis
PE is incorrectly diagnosed in almost 75% if patients. Acute onset of dyspnea or hypoxemia with a normal chest x-ray should be considered a pulmonary embolism until proven otherwise.
Management
General management:
100% oxygen sitting up (patients may need intubation)

Fluids
Opiates
Anticoagulants

Unfractioned heparin IV continous infusion (check APTT regularly 4-6 hours)  OR
Subcutaneous low-molecular-weight heparin – rapid onset (no monitoring generally required)
Warfarin (Oral) after patient is stable (check INR)

Look for cause of PE
Remember Normal INR is 1. Therapeutic range for people on warfarin INR 2-3
---
Emergency Pulmonary Embolism If patient is haemodynamically unstable, emergency pulmonary embolectomy should be considered. In patients with large PE and no contraindications, thrombolysis is the definitive management.
Pathophysiology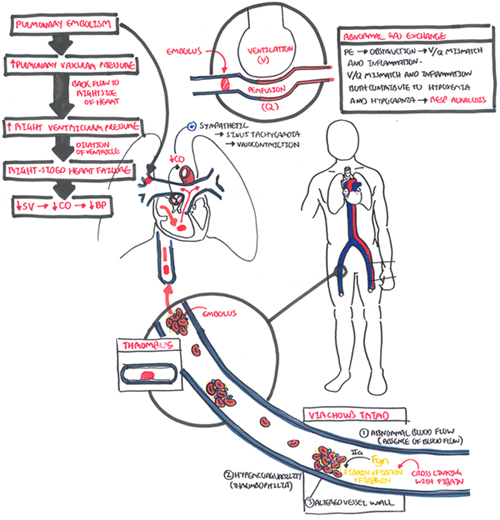 Complications and Prognosis
30 day mortality of acute massive PE is about 50%
~10% mortality occurs within the first hour
Up to 80% of mortality occurs within the first 2 hours
The operative mortality of stable patients is about 30%
References
UpToDate
Best Practice
Oxford handbook of Clinical Medicine