Overview Glomerulonephritis is inflammation of the glomerulus.  Glomerulonephritis is classified by clinical syndrome/presentation (e.g. nephritic or nephrotic syndrome), histological appearance , or by aetiology. We will divide glomerulonephritis broadly into  two broad types: Nephritic glomerulonephritis and nephrotic glormerulonephritis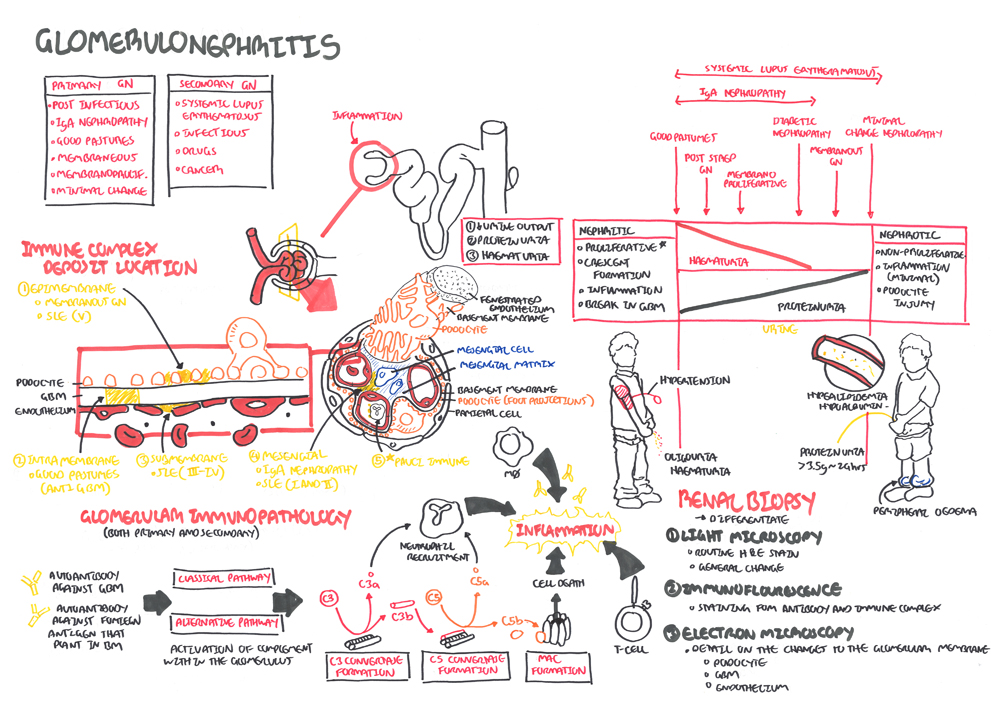 Two Types of Glomerular disease:
DIFFERENCE BETWEEN NEPHROTIC AND NEPHRITIS SYNDROME 
 
Nephrotic Syndrome
Nephritic Syndrome
Onset
Slow
Acute
Swelling
++++
++
Blood Pressure
Normal
Increased
Proteinuria
++++
++
Haematuria
+/-
+++
Red cell casts
Not present
Present
GFR
Normal
Normal/low
Serum albumin
Low
Normal/low
Serum lipids
High
Normal
Most commonc cause
Diabetic Nephropathy
IgA nephropathy
Approach
History
Examination
Investigations

EUC
Urinalysis
Urine culture
Immunological
X-ray
CT
MRI
Renal biopsy
---
Renal biopsy looks at the histology of glomerular disease
Light microscopy - Useful for morphology, chronicity, and diagnosis.
Immunofluorescence - Usually by immunofluorescence but also immunoperoxidase staining. Localizes immune reactants
Electron lightmicroscopy - Examining cell and basement membrane structure and for characterizing glomerular deposits.