There are over 100 microbes (virus, bacteria, parasite, fungi) that can cause community-acquired pneumonia. Bacteria are the most common cause of CAP and have traditionally been divided into two groups, "typical" and "atypical" agents.
Typical:  S. pneumoniae, H. influenzae, S. aureus, group A streptococci, Moraxella catarrhalis, anaerobes, and aerobic gram-negative bacteria.
Atypical: Legionella spp, M. pneumoniae, C. pneumoniae, and C. psittaci
---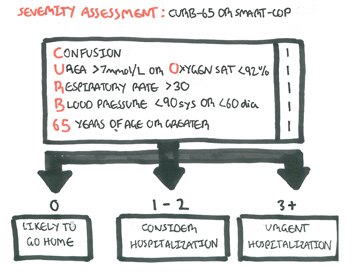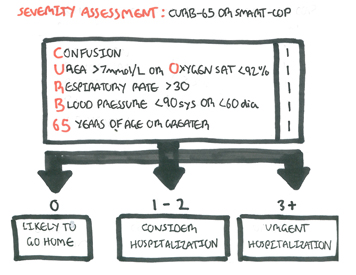 The severity of pneumonia can help guide the need for hospitalisation, management and predict mortality. There are a few indices developed for assessing the severity of pneumonia including: CURB-65, SMART-COP and PSI. CURB- 65 is less complex and allows for quick assessment.